READ WHAT PAST PARTICIPANTS SAY ABOUT THRIVE HEALTH PROGRAMS

"This course was extremely well thought-out and planned with the learner in mind. I enjoyed each time I logged on to complete a module, as the content flowed well and kept me engaged. I learned things that I never did during my post-secondary education and throughout my career. I now feel more prepared to work with cancer patients in an exercise environment after taking this course."
Allyssa D, BSc.Kin, Certified Exercise Physiologist.
"The Thrive Health [Cancer & Exercise] training gave our team the confidence to facilitate our Cancer and Exercise Programming. The training is well thought out, and easily absorbed by everyone."
Amber Allan, Fitness and Wellness Coordinator, Canada Games Centre Halifax, NS
"I teach aquatic and have many clients with breast cancer and all the accompanying issues. The [Thrive Health Cancer & Exercise training] course helped enormously with understanding what they are experiencing. …Sometimes I had to go slowly and repeat [the modules] as the technical language of cancer and medicine is unfamiliar, but I got there!"
KJ Johnson, Aquafit Specialist
"I completed the Thrive Health Cancer & Exercise training in 2018. Teaching these classes has been very rewarding. The participants inspire me to be a better trainer. Fantastic program!
I look forward to continue being involved with the Alberta Cancer Exercise program (ACE)."
Jannine Otto R.N., CSEP-CPT
Adult and Fitness Lifestyle Trainer| William Lutsky Family YMCA
YMCA of Northern Alberta
Get Certified!
Become the go-to expert in evidence-based exercise planning and support for cancer survivors.
"Taking the [Thrive Health Cancer & Exercise training] has allowed me to bring customized guidance and training to a very vulnerable population - those living with a diagnosis of cancer, and often undergoing difficult and debilitating treatments for their diagnosis. I love the process of giving back confidence and independence to these courageous individuals and watching them realize how much they can still do that they thought was now beyond their abilities. The customized training helps to boost their emotional state, while bringing the beneficial hormonal and physiologic responses that research shows come from physical exercise. The classes are superb for stress management. They empower clients to take back control. They exercise in an atmosphere of positive reinforcement, active listening and peer support from others who share the same challenges. They learn individually the ways they can modify their exercise routines for their specific needs so that their fitness program can continue no matter what the diagnosis of cancer has brought into their lives."
Naz Tabibi
Group Fitness, OA, Aqua, Dance Instructor
Yoga & Pilates Teacher
Personal Trainer

"The Nova Scotia Health Authority Cancer Care Program was introduced to Thrive Health Services and Dr. Nicole Culos-Reed about two years ago. It was inspiring to learn about the Thrive program and all of the great work happening in Alberta to support exercise programming for cancer survivors. Since this introduction more than 50 Nova Scotia health care and exercise professionals have completed the Thrive Health training program. It has provided a foundation on which we are building local evidence-based exercise programs for cancer survivors. As momentum and demand grow, we will be counting on the Thrive training program to support our capacity to expand and grow our programs."
Judith Purcell
Prevention Coordinator
Nova Scotia Health Authority Cancer Care Program
"The Thrive Health Cancer and Exercise Online program has been invaluable to our Yoga instructors, and is a requisite to offering our Wellspring programs.
Every facilitator has commented on the beneficial aspects of the information provided and the confidence they have in working effectively with cancer patients and their specific needs."
Marilyn Hundleby Ph.D., R. Psych CRHSP
Ex Officio Board Member – Wellspring Edmonton
Director of Programs: Wellspring Edmonton
"The Thrive [Cancer and Exercise] training has proven to be an invaluable tool in maximizing the reach and impact of our exercise program. It has done so by allowing us to direct cancer patients and survivors to community partners with fitness leaders who have a base understanding of the unique needs of this population."
Melanie Keats, PhD
Professor
School of Health and Human Performance,
Dalhousie University (Kinesiology)

"I'm very grateful for my partnership with Dr. Nicole Culos-Reed and Dr. Lauren Capozzi of Thrive Health Services. The online training that they offer to our teachers within the Yoga Thrive Teacher Training Program, from Thrive Health Services, is invaluable. Not only does this online training provide them with the necessary cancer education they need, prior to attending our 4-day training, it also allows our teachers to note that they've trained with leaders in the field of cancer and exercise. The online portion is steeped in knowledge that comes from the most current evidence. This greatly adds credibility to the field of yoga as we continue to collaborate with more medical professionals. Both Dr. Culos-Reed and Dr. Capozzi have also done regular in-person education for my teacher training programs as well and are incredibly engaging as facilitators. They've been so wonderful to work with and collaborate with for the last 12 years."
Tyla Arnason, C-IAYT Yoga Therapist
Yoga Thrive, Lead Facilitator
Owner, The Yoga Effect
"The City of Calgary – Recreation is pleased to work in partnership with Alberta Cancer Exercise, and we appreciate the convenience of the Thrive Health Cancer and Exercise online training. Our staff find the training comprehensive and thorough, leaving them confidently equipped to instruct the Alberta Cancer Exercise fitness classes."
Pam Manzara BPE, Rec Diploma, AFLCA
Fitness & Wellness Consultant
Calgary Recreation
"The Thrive [Cancer and Exercise] Training helped me to understand all the details related to physical activity and cancer. As it is evidence-based, my intervention with people with cancer are safer and relevant. I feel more confident so the patient are more willing to adhere to the health habits on a long term."
Myriam Fillion, M.Sc
Kinesiologist, Oncology Specialist
Quebec Breast Cancer Foundation/Ruban Rose
Already Certified?
Expand your skills with cutting-edge educational modules, delivered by world-renowned experts.

"I have had the opportunity to experience the impact of the Thrive Health Services – Cancer and Exercise Training for Fitness Professionals from two unique lenses.
First, as a Clinical Exercise Physiologist and graduate student working in the area of exercise oncology, the training provided me with a comprehensive, high-level scaffold for working with individuals affected by cancer. It has allowed me to expand my scope of practice and ensure I am delivering the best possible experience for patients, using evidence-based knowledge, resources, and skills. The training has been instrumental to my work as a clinician, and I feel confident screening, prescribing, and delivering exercise for this population.
Second, as the Coordinator of a novel fitness facility for cancer survivors and their support persons, the Thrive Centre, I have supervised >100 volunteers who have taken the training. Not only have I seen first-hand how volunteers are better equipped to serve cancer survivors and their support persons, but they are developing a unique skillset that allows them to transfer their knowledge into practical terms, directly supporting participants with their movement – improving their overall well-being.
I truly believe that any fitness professional should take this training – it is delivered by two world-renowned experts in the field, Dr. Nicole Culos-Reed and Dr. Lauren Capozzi, and its value is priceless."
Julia Daun, BKin, MSc
CSEP-Clinical Exercise Physiologist
PhD Student, Faculty of Kinesiology,
University of Calgary

"As a new graduate student starting to teach exercise oncology classes, Thrive's Cancer & Exercise Training for Health & Fitness Professionals was an incredible development opportunity to start me on my fitness instructing journey. This training module built my knowledge, expertise, and confidence when tailoring and creating a safe environment for cancer survivors looking to be more active. I'd recommend this program to anyone looking to build their knowledge base and practical skills in exercise oncology!"
Delaney Duchek, BASc
MSc Student, Faculty of Kinesiology, University of Calgary

My experience with Thrive Health Training was a positive one! After completing all nine modules, I felt confident and competent to combine my passion for health and wellness, to work with individuals affected by cancer. Since completing Thrive Health Training, I have actively been involved in research, conducting fitness assessments, and teaching numerous weekly exercise classes for individuals affected by cancer. The knowledge and confidence I gained through Thrive Health has ensured that I can accurately and safely modify exercise for my class participants. I highly recommend that qualified exercise professionals in the area of exercise oncology, use the phenomenal resource.
Emma McLaughlin, BKinH
MSc Student, Faculty of Kinesiology,
University of Calgary
Get Certified!
Become the go-to expert in evidence-based exercise planning and support for cancer survivors.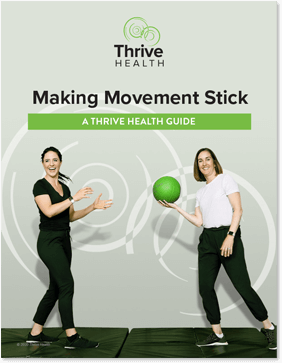 Get the facts
Sign up for free, evidence-based exercise oncology insights sent to your inbox once a month, and get instant access to our free guide, Making Movement Stick!