More people are surviving cancer than ever before...
But the impact of cancer & treatment on their quality of life is profound.
As a health & fitness professional, you're uniquely
positioned to help cancer survivors navigate and
thrive at every stage of their journey.
Cancer is the #1 chronic illness in the world:

27 Million
new cases by 2050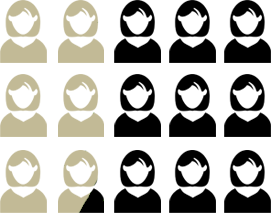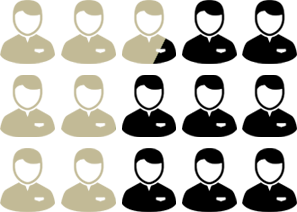 Every year, there are millions of cancer survivors who struggle to
reclaim a sense of control over their health and wellbeing
— both during and after treatment.
(This is where you come in.)
Exercise & physical activity is one of the best defenses we have against cancer mortality and treatment side-effects.
(It's so potent that pharmaceutical companies are jealous.)
How exercise is changing survivors' lives:
Improved health status  allows initiation of difficult treatments (e.g. surgery, cardio-toxic drugs)
Maintenance and alleviation of symptoms
Reduced risk of recurrence
Reduced cancer mortality
Reduced all-cause mortality
A thoughtful, effective exercise program helps cancer patients & survivors experience...
Less
Stress
Depression
Anxiety
Pain
Fatigue
More
Enhanced Coping
Physical Function
Mobility
Sleep
Quality of Life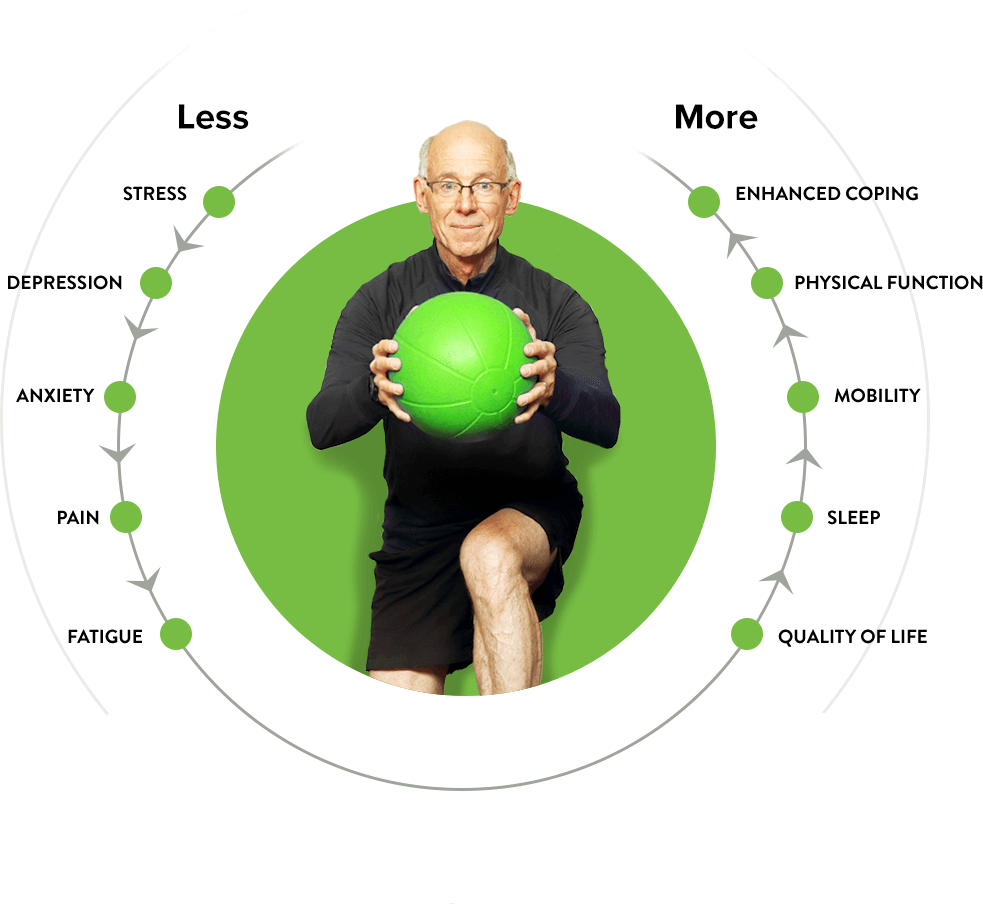 THE CHALLENGE?
Cancer patients and survivors are less active than the general population.
(Even though 85% of report they'd like to be more active than they currently are.)
Cancer survivors want and need help when it comes to exercise...
But there is a severe lack of health & fitness professionals who have the expertise required to support cancer patients.
This is because working with cancer patients & survivors requires a more nuanced approach.
If you've ever considered working with the cancer population, perhaps you've wondered:
What are the recommendations and guidelines for working with cancer survivors?
How can I customize those guidelines to work for each client?
What are the risks I need to be aware of?
How do I conduct an effective screening & assessment before we begin (and measure progress along the way)?
What do I need to know about each tumor type… and how might past or current treatment affect my recommendations?
What is appropriate at different stages of the cancer journey?
How can I help my clients build healthy habits & exercise behaviours that stick?
You can't afford to guess when it comes to working with cancer survivors.
Let us help you translate the evidence into action instead.
As world-leading researchers in cancer physiology, rehabilitation and exercise, we know what it takes to help cancer survivors thrive
(From diagnosis to remission, and everywhere in between.)

Nicole Culos-Reed, PhD
Professor, Faculty of Kinesiology, University of Calgary. Adjunct Professor, Department of Oncology, Cumming School of Medicine. Research Associate, Psychosocial Resources, Tom Baker Cancer Centre.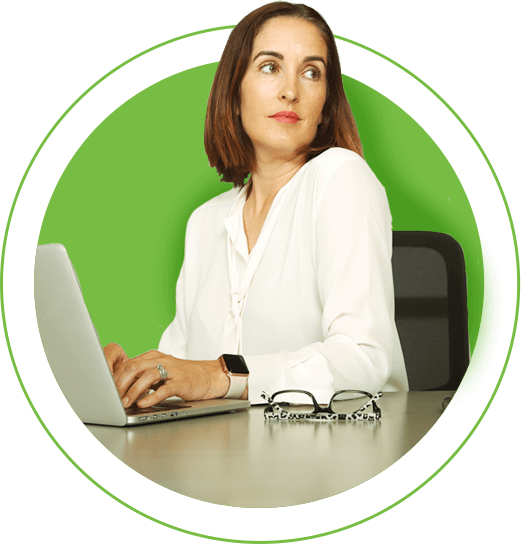 Co-Founder,
Thrive Health Services
With almost 20 years of academic experience, Dr. Nicole Culos-Reed is an expert in the field of behaviour change in the physical activity domain for healthy and clinical populations. 
Her research primarily focuses upon the determinants and outcomes of physical activity for cancer survivors, the psychosocial outcomes associated with a healthy lifestyle, and the translation of evidence into sustainable community-based programming. 
Understanding adoption and long-term maintenance of health behaviours are key factors in her work.

Lauren Capozzi, MD, PhD, CSEP-CEP
Adjunct Assistant Professor, Faculty of Kinesiology, University of Calgary. Resident Physician, Physical Medicine & Rehabilitation, Cumming School of Medicine. Certified Exercise Physiologist.
Co-Founder,
Thrive Health Services
With over 15 years of experience in the fitness industry, and a strong academic and clinical focus on health behaviour adoption and adherence, Dr. Lauren Capozzi delivers practical evidence-based expertise for chronic disease prevention and management. 
As a physician, researcher, and exercise physiologist, Lauren brings first-hand clinical expertise to her strong program leadership experience. 
Her ongoing research interests include the design of health promotion interventions and the translation of these programs into sustainable community-based programming.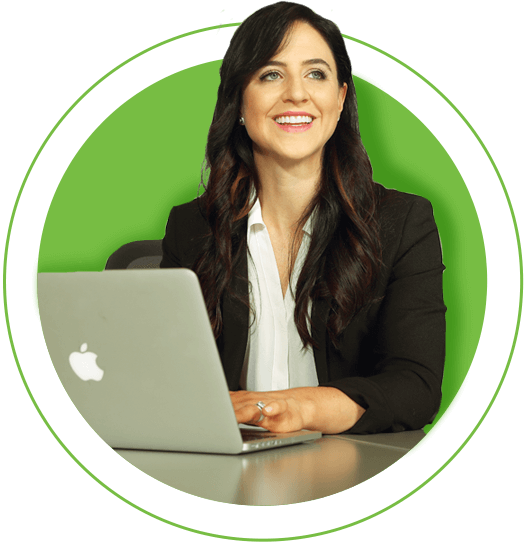 We're on a mission to bring evidence-based, clinically tested insights out of the lab and into your practice.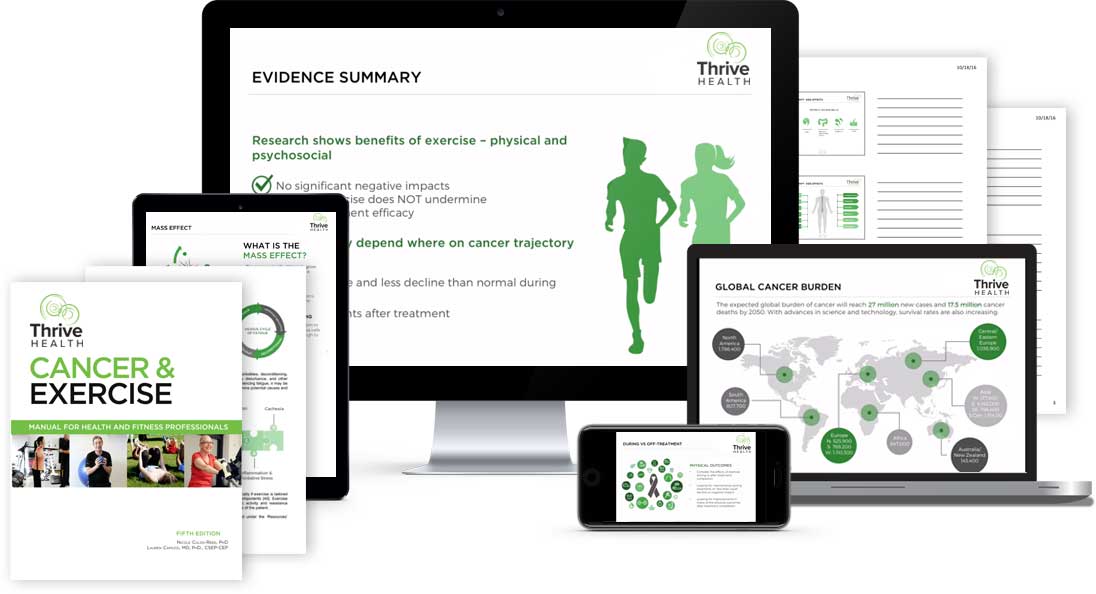 Thrive's Cancer & Exercise Training for Health & Fitness Professionals is the only program developed by a world-leading cancer exercise and behavior change researcher & a practicing Exercise Physiologist and M.D.
This is our life's work and we can't wait to share it with you.
We've distilled everything we know (and everything that the peer-reviewed evidence has to say) into the comprehensive and actionable program available to you today.
How the program works:
The Thrive Cancer & Exercise Training is an online course developed specifically for health & fitness professionals who work with the cancer population.

9 zero-fluff video training modules with comprehensive manual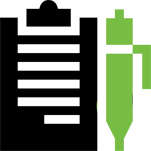 Supported by peer-reviewed evidence  & clinical experience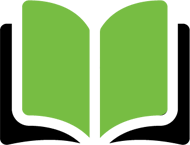 Printable resources, guides, templates & more
By the end of our time together, you'll have an in depth understanding of how to develop an evidence-based, fully-customized exercise prescription for cancer patients & survivors.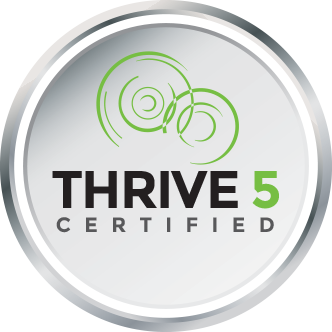 Upon completion, you'll be certified to practice using The THRIVE 5 Cancer Exercise Framework:
Tailor recommendations based on type of cancer
Match your recommendations to specific cancer treatments
Before, during, and after treatment
Physiologic and psychosocial factors
Here's exactly what you'll learn in the program: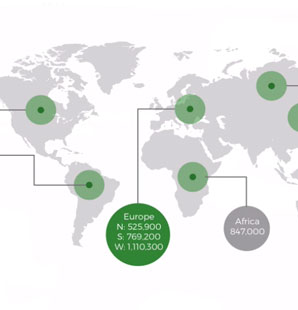 Cancer Prevalence, Biology & Treatment
Understand cancer prevalence, biology & diagnosis
Learn how different treatment modalities, medications, and side-effects interact to affect recovery and quality of life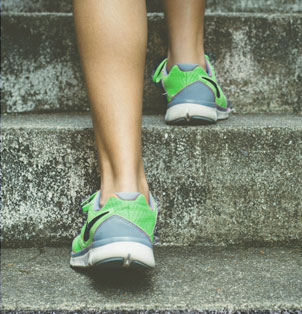 Understand the role of exercise at each stage of the cancer continuum
Review the evidence-base and recommendations for exercise and cancer
Learn about the limitations of cancer exercise guidelines, and why a more individualized approach is essential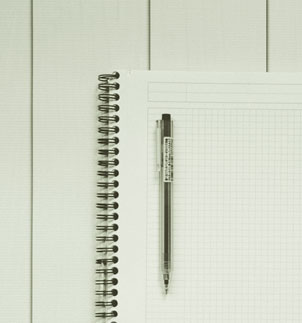 How to conduct thorough & effective screening: understand which information to gather, which information is essential and what is unnecessary
Understand potential risks and when to seek medical clearance for exercise
Learn how to apply knowledge from screening to guide the development of your customized exercise prescription
Bonus: Printable client questionnaires and screening flowcharts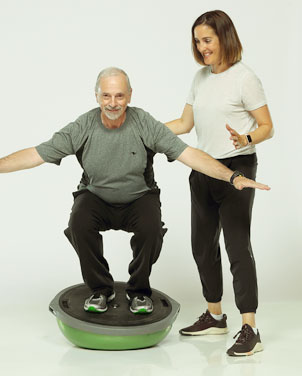 Custom Exercise Prescription for Cancer Survivors
Learn to use the 4-level approach to tailoring exercise for cancer survivors for a safer, effective, more patient-centered program
An in-depth exploration of the 12 most common cancer populations, and considerations for tailoring your program to each
Learn how to address individual factors in your treatment plan
Bonus: Client intake form templates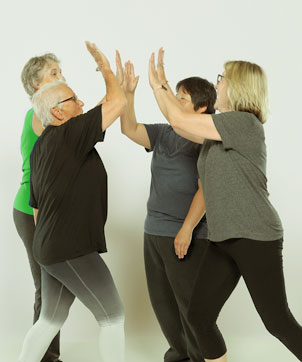 Psychosocial Considerations
Understand the relationship between wellness, movement and quality of life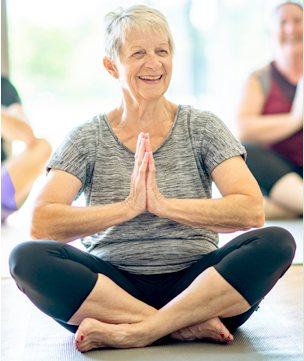 An effective, individualized exercise prescription is just the beginning. In this module, you'll learn how to promote exercise adoption, adherence and maintenance
Learn practical tools for guiding clients through the behaviour change continuum
Help your clients plan and strategize for long-term success
Debunk commonly-accepted behaviour change myths and learn what it really takes to build a lasting habit of physical activity with your clients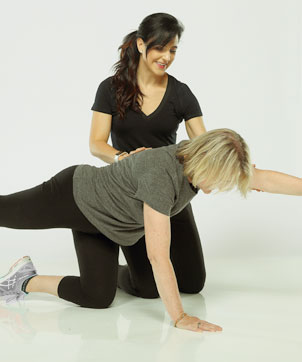 Individual and Class Management Techniques
Cancer survivors look up to you as a leader — learn how to confidently lead an exercise session and get practical class-management techniques
Develop strategies for group cohesion, set appropriate expectations, and build critical leadership skills to keep your sessions on track
Understand your scope of practice, when to refer out, and how to ensure you & your clients are protected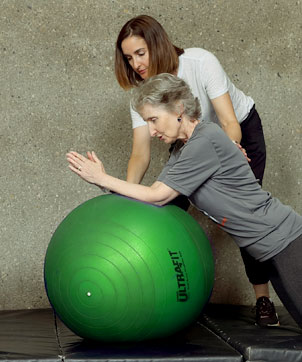 Knowledge Translation & Your Role in the Community
Harness the ripple effect to create lasting change beyond your client sessions. Learn how to become a master of knowledge translation and ensure your work has a broad community impact.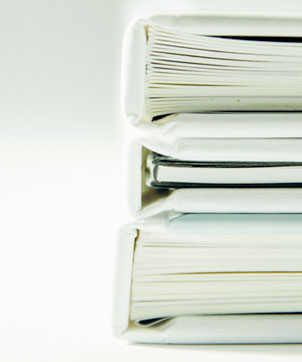 CASE STUDIES & RESEARCH EXEMPLARS
Apply what you've learned to 3 detailed case examples, in preparation for working within a cancer & exercise setting or in a practical workshop.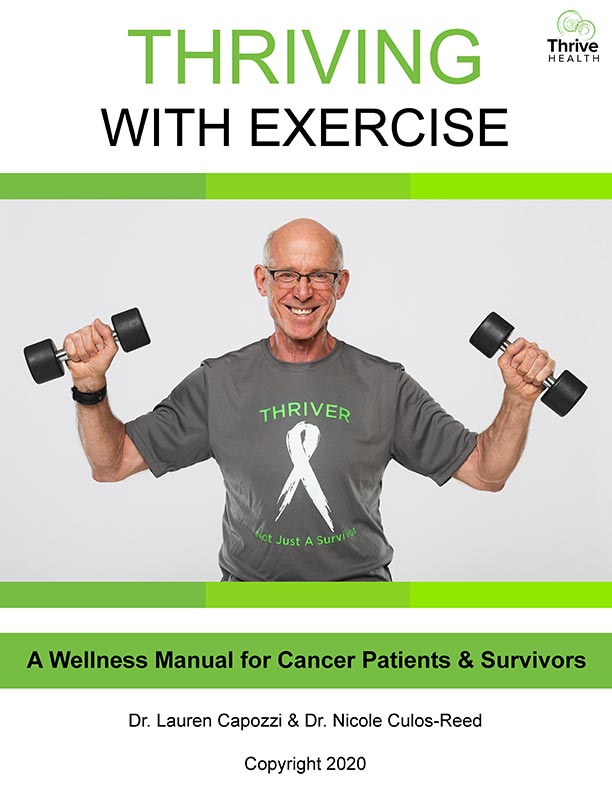 RESOURCES FOR INDIVIDUALS LIVING WITH AND BEYOND CANCER
Learn about exercise and wellness resources available for individuals with cancer, where and how to find these resources, and be able to point your clients in the right direction to access them.
"The Nova Scotia Health Authority Cancer Care Program was introduced to Thrive Health Services and Dr. Nicole Culos-Reed about two years ago. It was inspiring to learn about the Thrive program and all of the great work happening in Alberta to support exercise programming for cancer survivors.
Since this introduction more than 50 Nova Scotia health care and exercise professionals have completed the Thrive Health training program. It has provided a foundation on which we are building local evidence-based exercise programs for cancer survivors.
As momentum and demand grow, we will be counting on the Thrive training program to support our capacity to expand and grow our programs."
Judith Purcell
Prevention Coordinator
Nova Scotia Health Authority Cancer Care Program
Also included with your enrollment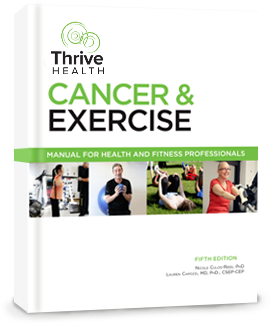 thrive's 200 page cancer &
exercise handbook
A companion to the video training modules, consider this handbook your new bible and go-to guide for everything cancer & exercise related. 
Get detailed guidelines and recommendations for program customization at your fingertips — with considerations for tumor type, treatment type, location, cancer stage and more. 
Backed by extensive references, The Thrive Handbook gives you everything you need to develop a fully individualized exercise prescription for your clients and guide them towards wellness with total confidence.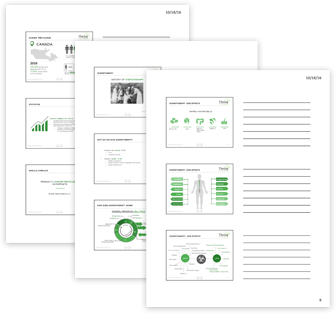 READY-TO-USE FORMS,
PRINTABLES & GUIDES
Get ready-to-print screening tools, worksheets, graphics and more to guide your practice, including:
Decision-making flowcharts for exercise recommendations
Exercise assessment forms
Physician clearance forms
Client intake forms
Tumor-specific screening questions
And more...
Get instant access to Thrive's Cancer & Exercise Training for Health & Fitness Professionals today:
*If you're in a research setting, or non-for profit, please contact us for specialized rates.
**If you're an organization looking for 10 or more, please contact us for discounted rates.

Already Certified?
Get all 4 of our expert-led modules for only $39.99 – $89.96 value (you save 55%!)
Modules included in the bundle:
(1) Cancer-Related Fatigue and Exercise 
(2) Pediatric Cancer and Exercise 
(3) Adolescent and Young Adults with Cancer: The Role of Exercise 
(4) Chemotherapy Induced Peripheral Neuropathy – The Role and Implications of Exercise Module 

Choose the one you'd like, by clicking below!

Learn how to bridge the gap between cancer survivorship, wellness, and quality of life, so you can:

what the peer-reviewed evidence has to say about cancer & exercise into action

your clients toward wellness by developing a customized, effective exercise prescription

cancer survivors throughout every stage of their journey toward recovery and wellness
"Thrive Training helped me to understood all the details related physical activity and cancer.
As it is evidence-based, my intervention with people with cancer are safer and relevant.
I feel more confident so the patient are more willing to adhere to the health habits on a long term."
Myriam Fillion, M.Sc
Kinesiologist, Oncology Specialist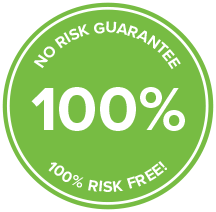 If you're not satisfied, we're not satisfied. The Thrive Health training is designed to increase your knowledge around the benefits of exercise for cancer survivors, and enhance your ability to provide exercise programming for cancer survivors that is safe and beneficial.
If you feel we haven't delivered on this promise, we'll provide a full money back guarantee. Simply email us at info@thrivehealthservices.com within 30 days of your purchase and we will refund your payment in full.
The City of Calgary – Recreation is pleased to work in partnership with Alberta Cancer Exercise, and we appreciate the convenience of the Thrive Health Cancer and Exercise online training. Our staff find the training comprehensive and thorough,
leaving them confidently equipped to instruct the ACE fitness classes.
Pam Manzara  BPE, Rec Diploma, AFLCA
Fitness & Wellness Consultant
Calgary Recreation
That's the average gap between research and clinical practice.
You don't need to wait. You can start changing lives today.
Get everything you need to work with cancer survivors and develop a fully customized, evidence-based exercise prescription that sticks.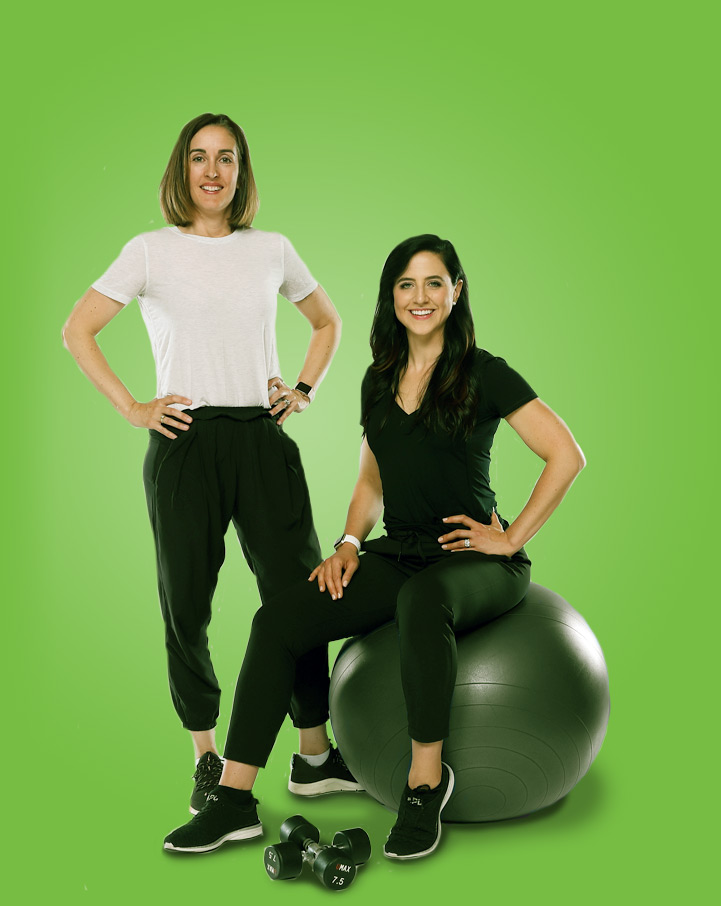 ENROLL TODAY TO GET INSTANT ACCESS TO:
9 video-based online training modules
Printable workbook and training slides
Thrive's 200+ page Cancer & Exercise Handbook
Printable guides, forms, screening tools and more
Thrive 5 Cancer Exercise Certification upon completion of assessment quiz